What Anyim Asked Buhari To Do About Rising Insecurity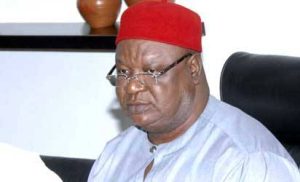 Former Senate President, Pius Anyim has asked President Muhammadu Buhari to immediately tackle the security challenges facing the country.
In an open letter to Buhari on Monday, and titled 'Re: The State of Insecurity in the Nation: My Suggestion,' Anyim advised the President to set up a panel of inquiry to investigate the agitations across the country.
He asked the Buhari administration to appoint a commission to enquire into the fears of minorities and means of allaying them.
The former SGF listed the benefits of the proposed commission to include de-escalation of the current tension in the country and creation of a platform for the exchange of ideas.
"The perilous threats to our national sovereignty at the time you took over the reins of power in 2015 were the Boko Haram insurgency in the North-East; the armed agitation in the Niger Delta region and the IPOB agitation in the South-East.
"Mr President, on your assumption of office, the most striking promise you made to the nation was to tackle insecurity with emphasis on reclaiming the territories occupied by Boko Haram. I must admit that you did approach the insecurity challenge with commendable determination but, unfortunately, the challenge, with time, became hydra-headed and no doubt went beyond your control," he wrote.
The former Secretary to the Government of the Federation recalled that he met with the President on October 5, 2018, in company with his then Chief of Staff, the late Mallam Abba Kyari.
He said: "We touched on a number of issues, including the insecurity in the country and about which you directed that I should do a short brief on my suggestion and forward to your Chief of Staff. Mr President may wish to know that I did as you directed and submitted my suggestion to your then Chief of Staff on the 20th of October, 2018.
"I have decided to do this open letter just to be sure that it will get to you, because I suspect that the private one did not get to you. Most importantly, I would not have bothered to write you this letter if the unfortunate and avoidable circumstances we have found ourselves in, as a nation, have not continued to fester to the magnitude of threatening the fabric of the nation."
Under
Breaking News
Promote Your Song & Video with Us Now At Affordable price contact us now
08022290573
1805loaded@gmail.com