We've Recorded Success In Prosecution Of Boko Haram Insurgents – Malami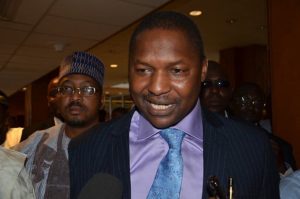 The Minister of Justice and Attorney-General of the Federation, Abubakar Malami (SAN), has said the federal government has recorded tremendous success in the prosecution of Boko Haram insurgents.
In an interview with BBC Hausa on Friday, Malami noted that many of those found innocent were deradicalised in line with the policy of the federal government.
Malami, however, sad he is unaware that there are people opposed to the deradicalisation of persons alleged to have been members of Boko Haram.
He said: "Government came up with the strategy and plan, which is under the office of the national security adviser. Also, I am just learning that there are those opposed to deradicalisation from you.
"If the law does not find fault in a crime, what is your own opinion of justice? Our strategy in the office of the AGF and ministry of justice works on proven crimes before the right punishment will be applied.
"If a crime is not proven, the law works strongly on the fact that the act has not been committed. I, therefore, do not have a scale to judge against the justice sectors laws."
Responding to the question of establishing special courts for insurgents, he said the courts are provided by the Constitution and a new role cannot be introduced without amending the Constitution.
He added that the government has come up with a strategy, under the office of the national security adviser to attend to such cases.
Responding to the issue of state governments who grant amnesty to bandits, Malami said, in 2017, he met with attorney-generals of states on the prosecution of bandits.
He said: "As you know, Nigeria has a population of over 200 million scattered across 36 states and the FCT. One of the resolutions that was taken at the end was for state governors to support the adopted measures to tackle insecurity and ensure the dispensation of justice.
"In 2017, the AGF gave all attorney-generals across Nigeria the right to act and make judgement on his behalf in cases surrounding insecurity. If investigation proves that a crime has been committed, then an attorney-general can represent me in his state to see to it that justice is served.
"Taking cognizance of this opportunity given by the AGF, it is unjust to say that the AGF has made no effort to strengthen the process of prosecuting bandits."
Under
Breaking News
Promote Your Song & Video with Us Now At Affordable price contact us now
08022290573
1805loaded@gmail.com