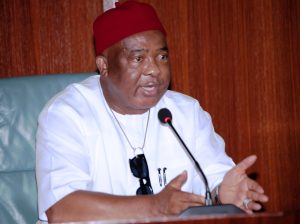 Governor Hope Uzodinma of Imo State has said that he will reveal those behind the strings of attacks in the state in a matter of days.
Speaking on Sunday at Government House Chapel, Owerri, the state capital, the governor said the masterminds of the recent attacks in the state have been identified.
Uzodinma said the identities of the promoters of the attacks, including their names would be unveiled in few days their names so that they can face justice.
He noted that the attacks were carried out by hoodlums, bandits, IPOB members, and aggrieved politicians who decided to sponsor violence to derail his government.
Uzodinma, however, appreciated the people of the state for their understanding and resilience throughout the period of security breaches and skirmishes.
He said his government will always use its powers in line with the oath it swore to protect the people and their property, emphasizing that no individual, group, or criminals will be stronger than the government.
Uzodimma enjoined the people to be calm "because God is with us and that is why the criminals and bandits failed in their nefarious activities."