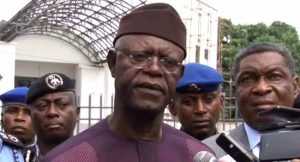 The Benue State Government has berated Governor Dave Umahi for blaming the Agila people for the recent attack on Umwuagodo-Akpu community in Ebonyi State.
On April 12, unknown gunmen attacked Umwuagodo-Akpu community in Ebonyi and killed several residents of the town.
The Ebonyi governor had claimed that the invasion of Umwuagodo-Akpu community was the result of a crisis involving Agila people of Benue.
But in a statement on Friday, the deputy governor of Benue, Benson Abounu, expressed dissapointment at the allegation made by Umahi.
He said the state is disappointed in Umahi's "baseless" claims as there was no evidence tying Agila people to the recent attack on Umwuagodo-Akpu.
Abounu insisted that if the governor refuses to provide evidence to substantiate his claims, it would be interpreted to mean incitement against the people of Benue.
The statement reads: "We are amazed and highly disappointed with the statement credited to the Executive Governor of Ebonyi State, His Excellency, Engr David Umahi indicting the Agila people of Ado Local Government Area of Benue State for the Monday, April 12th, 2021 attack on Umwuagodo-Akpu community of Ohaukwu Local Government Area of Ebonyi State in which an unspecified number of people were allegedly killed.
"While we sympathise with the victims and families of those affected in the gruesome attack, it is important to state that there is no evidence linking the Agila people of Benue State with the offence.
"Let me state here that when news of the attack broke and the Governor cast aspersion on the Benue side, I, as Benue Deputy Governor and Boundary Committee Chairman, engaged my Ebonyi counterpart and we both investigated the unfortunate incident. Our findings did not support the claim that Agila people either directly attacked or masterminded the attack on Umuogodo-Akpu of Ebonyi State.
"We are surprised at the attempt by the Ebonyi State Governor to change the narrative and find scapegoats for an action everyone, including the survivors themselves said was carried out by Fulani herdsmen.
"When the attack first occurred, even without any form of verification, and against the avalanche of evidence that it was carried out by Fulani herdsmen, Governor Umahi had hurriedly accused Agila people of responsibility.
"Today, two weeks after, in order to validate his earlier assertion, Governor Umahi is laying blame on the Agila people even as he has accepted that the attack was actually carried out by Fulani herdsmen. He now says that the herdsmen were hired by Benue people. Even a gullible public will find this difficult to swallow."