This Is How To make air conditioning With Standing Fan And Plastic Bottles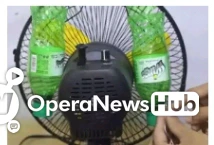 Home made air conditioning
It's super easy to fashion yourself a home made air conditioning using a plastic bottle.
Plastic bottles? How possible? I you be surprised but very simple as ABC. We are in the period of heat and power supply is also not regular and we wish to fall asleep like baby. Then you need to wholeheartedly monitor the process involved in making artificial air-conditioning at home. It is pretty easy to make.
The only thing you need for this is a fan and two bottles of ice water. A fan is a good thing to own in itself, but unfortunately it does just blow hot air around without actually making the room much cooler, but with this trick, you can make that happen!
How do you go about it?
You need just two big bottles of frozen water and a standing fan.
Fill the two large bottles with water and put them in the freezer until the water has frozen completely. Then, set the bottles on the floor (or on a table if you have a standing fan) just on top of a folded towel.
Set the fan behind the bottles. This way, the fan will be blowing really cool air, generated by the ice in the bottles, around your home and you will fall asleep like babies.This will allow the temperature to actually come down.
Promote Your Song & Video with Us Now At Affordable price contact us us now
08022290573
1805loaded@gmail.com

Share this post with your Friends on