Smirnoff InfamousMix – Ep 3 Vol 1 (Guest: Mr. Macaroni)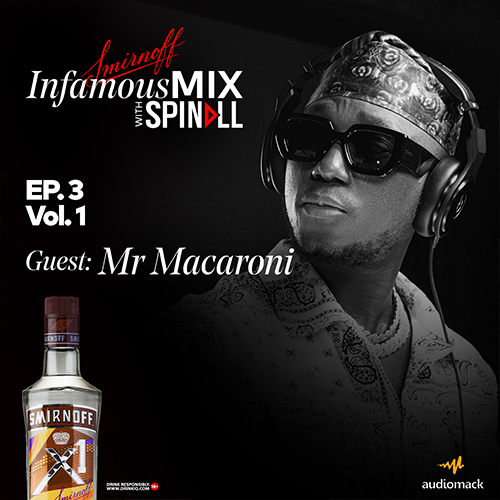 Smirnoff is back with another thrilling episode of "Smirnoff Infamous Mix" show, with the host, Sodamola Oluseye Desmond, popularly known as DJ Spinall.
DJ Spinall introduces his guest as someone who he respects a whole lot and loves his creativity, Debo Adedayo, better known as Mr. Macaroni. Debo, also known as Mr Macaroni is an Instagram skit maker and an activist. He was one of the prominent faces that stood their grounds during the End Sars protest.
DJ Spinall engages his guest with a couple of questions during the course of the show.
How do you play the sugar daddy role so effortlessly?
Before the sugar daddy role, I was experimenting with a couple of roles. One day, the sugar daddy idea popped in my head and I thought to experiment with the character, and since then, it's been bliss.
Do you think that it is mandatory for artists to talk about social injustice?
Firstly, we need to define who an artist is. An artist is one who is expressive of their art. The core functions of art are entertainment, being the primary role, information, education, societal-rejuvenation
For me, it is not mandatory but because I am a trained theatre artist. We have been taught to use our art to inform and educate.
Looking at the past couple of months in Nigeria, do you think that artist voicing out their opinion affect their career in a negative way?
Not in a negative way. We could say it might cost you something, especially for the artist. It is a different thing to have a passion for speaking up as I do. As a matter of fact, I do believe that God gave me the platform to be able to talk about these things. But what will keep you going is the passion.
What is the EndSars Experience that you never thought you'll experience?
It will be the strength of our numbers. I think we have always underestimated it, but the numbers were huge and people came out but trembled.
Another experience would be that if that situation is not well-managed, it could escalate.
Spinall admits to neer seeing the class of protesters he saw during the EndSars protest, and he thinks it is absolutely commendable.
What song are you currently vibing to?
This love by Machala.
Do you feel that the fans always expect too much from an artist? Especially when they think they should speak up?
I think it is too much pressure on the celebrities. It is now the fans pushing responsibilities that they might not be interested in them.
Most times, celebrities have established political affiliations. But unfortunately, these are the people doing us dirty, so you really cannot blame them for believing your voice is powerful. At the end of the day, it is a collective effort.
Why do we always feel the need to involve international artists in our issues?
It is basically Nigerians calling out to anybody or everybody to help us. It amuses me, but you should understand the pressure.
Do you think that you have recently been diluting your content?
For me, there is no line to cross. My stories always have a story to tell. I always love to use my act to inform beyond the entertainment.
As an artist, I draw my inspiration from raw materials around me. It might make you laugh, or angry, but I am showing you what is happening"
What do you think about artists that do not say anything about issues concerning the nation?
Like I have said before, an artist will produce their craft the way they dim-fit. Nobody should be in the position to tell an artist what to do. Nobody should be in a position to tell an artist how to produce his own craft. You either accept or reject it.
Do You ever get worried that your activism may truncate some big opportunities that you may have?
There were things that were supposed to happen that didn't, but that is laziness on their part. If you are afraid to speak up or associate your brand with activism….. God blessed me with contentment, so money does not move me, and my conscience leads me in any step I take. It has happened, but we are beyond that.
YouTube Embed: No video/playlist ID has been supplied
https://www.youtube.com/watch?v=bhL1MdJvqms[/youtubee]
The post Smirnoff InfamousMix – Ep 3 Vol 1 (Guest: Mr. Macaroni) appeared first on tooXclusive.
Under
Music
Promote Your Song & Video with Us Now At Affordable price contact us now
08022290573
1805loaded@gmail.com