'Security Agents' Set Ablaze Family Home Of Suspected IPOB Leader In Imo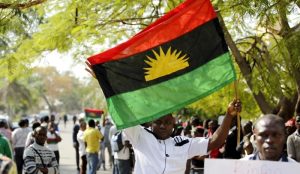 A house located in Umuneke-Nta in Isiala Mbano Local Government Area of Imo State has been set on fire after security operatives stormed the community.
The security operatives stormed the community in search of a leader of the Indigenous Peoples of Biafra, identified as Theddus Ekechukwu, popularly known as Moputu.
The 50-year-old man, whose wife is said to be a police officer, was spotted in the community till the evening before the incident.
A witness who spoke on the incident said security personnel drove into the community in seven vehicles, including an armoured car.
The eyewitness said that the security operatives wore jackets with police boldly written on their backs. Also, their vehicles were labelled 'FBI-R'.
The source added that the security operatives stormed the community around 1am and laid siege around Moputu's house in attempt to arrest him.
"But after the long waiting and searching  his house for him, they couldn't [find] him. Some said he disappeared immediately he sensed danger.
"In  anger, around 8 am, the police people set the family house on fire in the presence of his brothers and other family members.
"The fire also destroyed many properties including a big generator, fridge, brand new motorcycle among many others.
"Unfortunately, most of these properties including the house do not belong to Moputu. They belong to his elder brother who only harbours him and his family in it.
"After that, they continually shot in the air while they left the community through Amaraku axis. There is no casualty because I think they are only after Moputu.
Under
Breaking News
Promote Your Song & Video with Us Now At Affordable price contact us now
08022290573
1805loaded@gmail.com