Sagay: Nigerians Right To Criticise President Buhari But…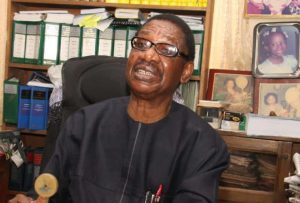 PACAC Chairman, Itse Sagay (SAN), has said Nigerians are within their rights to criticize President Muhammadu Buhari but any attempt to remove him unlawfully would be resisted.
Naija News reports that the senior lawyer was reacting to the Presidency's claim that a plot to destabilise the country and force regime change was in the offing.
Sagay called on security agencies to arrest and prosecute anyone plotting to remove Buhari illegally.
"If any activity involves a breach of the law, then it should be dealt with in that manner. They (those behind it) should be brought to justice," he told The Nation.
"Anything that creates untidiness in succession to power at that level can cause chaos and anarchy in the country and will result in a lot of bloodshed and death.
"Anyone caught trying to remove the president illegally and clandestinely outside the constitutional provisions deserves a very stern action by the law enforcement agencies.
"Anyone can criticise the President if they feel he is not doing his job effectively, but criticism must not constitute clandestine removal.
"For instance, if all the insecurity is part of a move by people to destabilise the country and give the impression that Nigeria is ungovernable under the president, therefore, an unconstitutional measure should be introduced to remove him, that is unacceptable, otherwise he should be criticised by anybody who feels he is not effectively dealing with the security situation in the country, and there is nothing wrong in that."
Under
Breaking News
Promote Your Song & Video with Us Now At Affordable price contact us now
08022290573
1805loaded@gmail.com