President Buhari Makes Fresh Appointment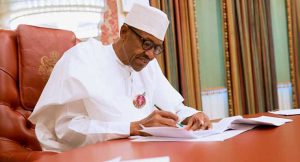 President Muhammadu Buhari, on Monday, appointed the Retired Major-General, AM Dikko as the National Coordinator of the National Centre for the Control of Small Arms and Light Weapons, NCCSALW.
The President also approved the start-up of NCCSALW on Monday.
The Presidency in a statement released on its Twitter account noted that NCCSALW would be domiciled in the office of the National Security Adviser, NSA.
The statement read in part, "The NCCSALW replaces the defunct Presidential Committee on Small Arms and Light Weapons, PCSALW, and shall serve as the institutional mechanism for policy guidance, research and monitoring of all aspects of Small Arms and Light Weapons in Nigeria."
"The pioneer National Coordinator, Retired Major General AM Dikko has served in various capacities in and outside Nigeria."
"He was a Course Director at the Kofi Annan International Peacekeeping Centre and Chief Instructor of the Nigerian Army Peacekeeping Centre."
"He was also a Military Adviser, United Nations Office for West Africa, Director Peacekeeping Operations Defence Headquarters, Commander Operations LAST HOLD as well as Commander, Operation LAFIYA DOLE, to mention a few."
Under
Breaking News
Promote Your Song & Video with Us Now At Affordable price contact us now
08022290573
1805loaded@gmail.com