Northern Elders React To Alleged Plan To Overthrow Buhari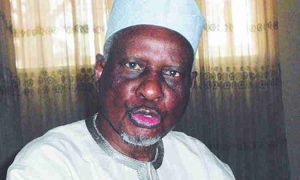 The Northern Elders Council has reacted to the allegation by the Presidency that some leaders were plotting to overthrow President Muhammadu Buhari.
In a statement on Tuesday by the presidential spokesman, Femi Adesina, the presidency had alleged that some disgruntled religious and past political leaders were behind the plans.
The presidency had vowed to deal with any group plotting to overthrow the Buhari-led federal government, saying it will not allow anyone to undermine the government and the nation's sovereignty.
It said that any group making such plans will be dealt with even if some unruly feathers would be ruffled in the process.
According to the statement, some persons have planned to hold an illegal conference where a vote of no confidence will be passed on President Buhari.
The statement read, "The Department of State Services on Sunday alerted on sinister moves by misguided elements to wreak havoc on the government, sovereignty and corporate existence of the country.
"Championed by some disgruntled religious and past political leaders, the intention is to eventually throw the country into a tailspin, which would compel a forceful and undemocratic change of leadership.
"Further unimpeachable evidence shows that these disruptive elements are now recruiting the leadership of some ethnic groups and politicians round the country, with the intention of convening some sort of conference, where a vote of no confidence would be passed in the President, thus throwing the land into further turmoil.
"The caterwauling, in recent times, by these elements, is to prepare the grounds adequately for their ignoble intentions, which are designed to cause further grief for the country.
"The agent provocateurs hope to achieve through artifice and sleight of hands, what they failed to do through the ballot box in the 2019 elections."
Reacting to the allegation, convener of the Northern Elders Council, Alhaji Tanko Yakasai, asked President Buhari to stop overheating the polity.
He noted that It is not enough for the Presidency to embark on scaremongering by issuing statements on an alleged plan to overthrow the government.
Yakasai said, "It is not enough to embark on scaremongering by issuing statements on such a serious issue. We have yet to recover from the violent overthrow of the Tafawa Balewa -led first Republic by young military officers. I do not support any change of government other than that which comes through the ballot box."
Under
Breaking News
Promote Your Song & Video with Us Now At Affordable price contact us now
08022290573
1805loaded@gmail.com