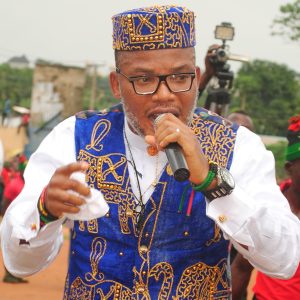 The leader of the proscribed Indigenous People of Biafra (IPOB) has reacted to an alleged comment credited to the Attorney General of the Federation, Abubakar Malami.
According to Peoples Gazzette, Malami had in a secret memo accused Nnamdi Kanu and Yoruba agitator, Sunday Adeyemo, popularly known as Igboho of fuelling the crisis in the country.
The report said Malami had advised President Muhammadu Buhari to move swiftly to suspend the fundamental rights of all Nigerians as guaranteed under Chapter IV of the Constitution.
He also allegedly told Buhari that insecurity across Nigeria has reached a level that could no longer be checked by existing democratic techniques, saying only a state of emergency promulgated by the president can help return the country to tranquillity.
Reacting to the alleged comment in a tweet on Thursday, Kanu said nothing will stop the independence of the proposed Oduduwa and Biafra republics.
Kanu tweeted, "In the document, Mr Malami blamed Nnamdi Kanu & Sunday Igboho for fuelling the protracted crisis that has enveloped the country and aggravated the social and economic conditions of Nigerians'. Anyway, your Martial Law won't stop #Biafra & #Oduduwa."
However, the minister has denied issuing a secret memo urging President Muhammadu Buhari to suspend the country's constitution and declare martial law.
In a statement on Wednesday night by his media aide, Dr. Umar Jibrilu Gwandu, Malami also said it is unbelievable that such a memo can originate from his office as he remains a firm believer in the tenets of democracy and constitutional order.
The article was originally published on Nigeria News