Nnamdi Kanu: Father Mbaka Reveals Those That 'Kidnapped' Him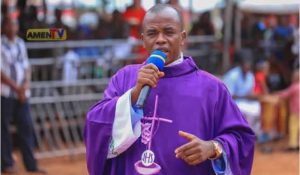 Controversial cleric, Rev. Fr. Ejike Mbaka has disclosed that the authorities of the Enugu Catholic Diocese were behind his disappearance for two days.
Recall that the Ohanaeze Ndigbo Youth Council Worldwide, OYC raised an alarm on Wednesday, noting that the renowned Chrisitan cleric's whereabouts can not be ascertained at the moment.
They had claimed that Mbaka was last seen on Tuesday and that every effort to get to him proof abortive. Mazi Okwu Nnabuike, the President-General of OYC who disclosed the development in the statement signed by him said: "We have it on good authority that his aides have neither seen nor heard from him since Tuesday."
"Calls put to his mobile line have also remained unanswered; this has now prompted us to issue this alarm as we would not take it lightly should anything untoward happens to him," Nnabuike claimed.
However, when youths took to the streets to protest the disappearance of the controversial cleric, Father Mbaka resurfaced.
Addressing his parishioners at the Adoration ground in Umuchigbo Nike, Enugu, Mbaka said he was summoned by the Bishop from where he was kept incommunicado.
While revealing that their plan was to keep him for 30 days, he said a lot of issues were presented against him after which the Church leadership, led by Bishop Calistus Onaga told him that he would remain indoors for one month.
Mbaka said he requested to be allowed the opportunity to come and address his parishioners after which he would shut down, "but they said No. Allow me to and celebrate mass for my people just for today, I won't even tell them that I am being punished, they said, No. I will just tell my members that I'm going for 30 days prayer, that after 30 days, we will come back and everybody will obey, they said, No.
"I also begged them to appoint another priest to come and celebrate mass for you today, they also said No.
"They didn't treat me in a pastoral way. I was asking 'am I being punished for what'?
"They said it was a meeting, but even before I reached the Bishop's house, conclusion has already been made. What happened to me was like the day I was shot on the road.
"Unfortunately for them, even before the meeting, a woman was already going around bragging that the Bishop will call me for a meeting, and that I was going to leave my house here for 30 days, and that after the 30 days, I would be sent to Rome, and Adoration ministry will be closed."
Mbaka cautioned that "in a time and cases like this, don't give me a punishment that will cause troubles for us because I'm not alone."
He said Bishop Onaga upon seeing the protest over his predicament, allowed him to go.
Mbaka said one of the things presented against him was that he blessed Nnamdi Kanu, the leader of the Indigenous People of Biafra (IPOB) as well as his recent criticism of the President Muhammadu Buhari's Government.
"Are you the owner of my mouth? You can't tell me who to bless? If you are not happy that I blessed someone, you have your own mouth, you can curse the person.
"I cannot hate my brother because of some people who hatred is in their genes," he declared.
Under
Breaking News
Promote Your Song & Video with Us Now At Affordable price contact us now
08022290573
1805loaded@gmail.com