Mbaka Fires Back At Presidency Over Contract Begging Allegation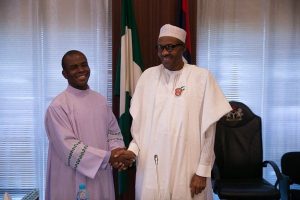 Spiritual Director of Adoration Ministry, Enugu, Rev. Fr. Ejike Mbaka has warned the presidency not to speak against him as anyone who does so, speaks against God.
This is as he described as laughable, the allegations by the presidency that he is speaking out against President Muhammadu Buhari because he was snubbed when he requested contracts for some people as compensation for his support to the president.
According to him, the presidency lied as those he took to the president didn't ask for contracts but wanted to help Nigeria in the fight against insurgents and terrorists.
It will be recalled that Father Mbaka had withdrawn his support and called for the resignation of President Buhari over the worsening security situation in the country but presidential spokesperson, Garba Shehu said Mbaka turned against Buhari because he didn't get some contracts he requested for.
But reacting to the allegations from the presidency, Mbaka during his sermon to his church members of Sunday said there is no truth in what Shehu told the public.
He also lambasted Shehu, describing him as a shame to himself and those he represents.
Mbaka further boasted that he pays direct salary to about 23,000 people on a monthly basis, therefore he doesn't need any monetary reward from the government.
Mbaka said, "When they talk about giving Fr Mbaka contracts, I don't want to talk about that because it is a laughable, childish accusation. Whoever is saying that is a shame to himself and shame to the people he is representing.
"Fr Mbaka's voice came from the spiritual, so what I am saying is unchallengeable. I have been silent because I was waiting for them to change until God said 'speak'.
"Some messages are like dew, some are like rain while some are like thunder. Anyone challenging that message is challenging the God of thunder and should be careful.
"The Fr Mbaka who was speaking is not just a priest but by the special grace of God a job provider. To the glory of God, those benefitting directly from me monthly through direct salary are not less than 23,000 people.
"That person challenging Fr Mbaka, how many people are you feeding? So if I talk you talk? Because the government is paying you?
"I'm not here to defend any allegation, but the three men he mentioned are people that could have handled the nation's insecurity. This was during Buhari's first term and these men told them they can help conquer insecurity.
"These men had the platform to end insecurity within one month. This was under Abba Kyari. I just handed them over to government. They only asked me to help them reach government and offered to help insecurity, revive the nation's economy through putting an end to theft of crude oil and providing employment.
"Anyone who says the truth is branded a terrorist.
"Are those given contracts better than me? They have shown that they don't have a reward mechanism. "The last person this administration should fight is Fr Mbaka."
Meanwhile, the Department of State Services (DSS) has warned religious and political leaders against calling for a forceful change of government or mass action that will plunge Nigeria into crisis.
The warning comes after the Spiritual Director of Adoration Ministry, Enugu, Rev. Fr. Ejike Mbaka, called on the National Assembly to impeach President Muhammadu Buhari if he fails to resign over rising insecurity.
In a statement on Sunday by its spokesperson, Peter Afunanya, the DSS stated that some clerics only make divisive comments.
Under
Breaking News
Promote Your Song & Video with Us Now At Affordable price contact us now
08022290573
1805loaded@gmail.com