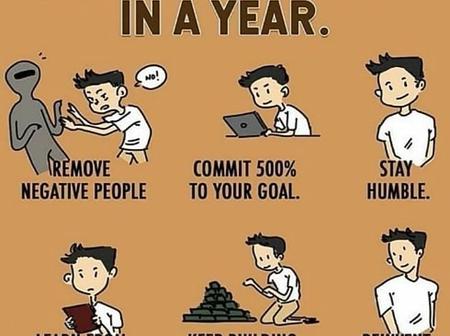 New Year, New You
We all have that great new drive to make a new year better that the one that just passed. Its good to have that great vibe to start, however how long do you think that can last before all the buzz goes down and you are back to normal routine of anyhow it goes.
This year 2020 should not be like other pervious years because you sure want things to change for the better.
Here are six things to do to change your life positively this year.
1. Remove Negative people from your life, you may need to delet some numbers, block some people, un-follow anybody or platform with negative energy. Do that now.
2. Learn from mistakes: we all make mistakes in life, the best thing to do when a mistake has been made is to face the results and make sure a lesson is learnt. Look at mistakes as research and development from the past for a better future outcome. Its not that everything will now be perfect however with the lesson learnt we are more prepared.
3. Commit 500% to your goals: the best thing to do to change your life in a year is to commit all your skills, and energy to achieving your set goals in various aspects of your life. Commitment is very vital to success.
4. Keep building relevant skills: Continuous improvement will sure leas to a positive changed life in a short time. Learning leads to earning.
5. Stay humble: When success comes some level of pride sets in , you begin to feel like you know something, I did it my self, I'm smart etc. Its very good to stay low and enjoy the success and grow higher more that to be so high and noe be cut down. Keep your cool , we are all at different levels at different times and we will all succeed at the due time.
6. Reinvent yourself: After all said and done , after all goals achieved, after all the positive change drive to success comes, its important not to remain there and think that is all that is needed to be done. No, there are more grounds to conquer therefore reinvent yourself for a newer level and go for more positive change and also teach more people to achieve desired change in their life's.
Cheers to our Amazing success in Life.