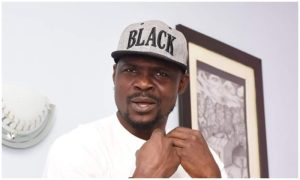 Nollywood actor, Olarenwaju Omiyinka popularly known as Baba Ijesha has been in the news in the past week days for allegedly sexually harassing a minor, who happened to be the foster child of comedienne, Adekola Adekanya, aka Princess.
The action of the actor has seen some of his colleagues call him out, while some others have given him their support while in distress.
However, it seems Baba Ijesha could have avoided the development if adhere to the advice he gave himself in a movie titled, "Ilu Awon Obrin".
The actor in the movie who happens to be a randy man eventually got into trouble over his philandering ways.
Baba Ijesha while suffering the consequences of his actions in the movie, advise his co-actor who had also got into trouble like him.
The co-actor asked, "What got you into this?"
Baba Ijesa then responded, "I am an incurable adulterer. Where I come from, no one is as good at lying as me. No woman has ever caught me. My nickname, 'Ololomasun' is the alias for adulterous men. However, God caught me red-handed. It was through some ladies I was fornicating with that I got struck with a charm.
"I was then rushed to a benevolent pastor. I was prayed for and I got well. After I was healed, the pastor told me to go home to my family. Though I have a wife, I always lied to women that I was not married and I didn't have children. After leaving the pastor on the seventh day, I was riding along in my car and I saw a pretty lady swaying her hips along the road. I thought I would make her my last catch before I stopped finally. I did not know I had cursed myself. I just wanted to have a taste of her and run, not knowing that I had entered the trap."