Gumi Should Be Appreciated Not Abused – Parents Of Kidnapped Kaduna Students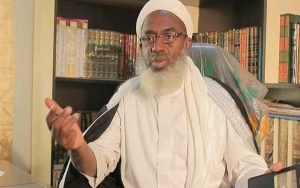 Prominent Islamic scholar, Ahmad Gumi should be appreciated for his efforts in seeking the release of the kidnapped students of the Federal College of Forestry Mechanisation, Afaka, Kaduna State.
The spokesman of the parents of the kidnapped students, Friday Sanni, said this on Wednesday in an interview with The PUNCH.
He asked Nigerians to stop vilifying the cleric and accusing him of speaking for the bandits, rather he should be commended and applauded.
Sanni noted that with the efforts made by Gumi in securing the release of the students, he and other parents recently spoke with their children.
He said, "The Honourable Sheikh, we want to commend him. We went to him and when we got to him that day, he actually told us his challenges arising from the fact that the government officials in Kaduna State and some Nigerians are accusing him of having a connection with the bandits which has become one of the hindrances he has as to how to end the banditry.
"He felt that the people that are ravaging the whole place need to be reached to with a message of Islam and he established contact with them and gave them an appointment, went to the bush with them and preached to them and then make them to understand that what they are doing is wrong which every well-meaning Nigerian should be able to commend him for that but we are not doing.
"When the incident (kidnapping) took place in some states outside Kaduna, he was able to reach the bandits, talk with them and mediate between them and the families or the state governments and they were able to sort it out.
"But people are asking questions; how did he know where they are? Even you (interviewer) as you are, if you have an interest in knowing where the bandits are, you will get to know the place. Remember he made a statement that the government is asking how he knows where they are and he said even the government knows where they are.
"Because this clergyman is coming out to tell Nigerians what is happening in the country, some people develop unnecessary hatred for him and that is why we are where we are because we don't want to hear the truth."
Sanni, however, condemned the Federal and Kaduna State Government for not having the political will to secure the release of their wards.
The parents' spokesman added that the government knows the bandits' whereabouts but lacks the willpower to go after them.
He asserted that the parents preferred to pay ransom to secure their children's release and have themselves arrested later on.
Sanni said the parents have been emotionally, psychologically, and mentally imprisoned since the kidnap of their children 56 days ago.
"When we are talking about I am not going to negotiate, I am not going to pay ransom, the question is what have you put on the ground, security-wise, to checkmate all these?"
"The matter is; do we have the government that has the will to end banditry in this country?" he asked,
Under
Breaking News
Promote Your Song & Video with Us Now At Affordable price contact us now
08022290573
1805loaded@gmail.com