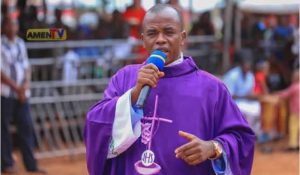 The Spiritual Director of Adoration Ministry, Rev. Fr. Ejike Mbaka, has been spotted in a video praising the leader of the Indigenous People of Biafra, Nnamdi Kanu, for speaking against the marginalisation of the Igbo people in Nigeria.
Mbaka who disclosed that he had not met the IPOB leader before commended him for his courage. He further stated that it is not wrong for someone to stand up for his people who are been maltreated.
"I want to tell you something, wherever he (Kanu) is, May God bless him because if somebody has risen to shout (that) his brothers are suffering, may the Lord bless his courage," Mbaka said.
Meanwhile, the cleric has called for President Muhammadu Buhari to be impeached due to the increase in security challenges in Nigeria.
The cleric in a statement noted that President Buhari has failed the country woefully, hence he should resign now.
Mbaka while speaking at the Adoration Ministry in Enugu, wondered why Buhari has remained silent despite the incessant killings in the country.
According to the cleric, Nigerians are crying because they don't have a leader and Buhari should resign or be impeached.
Watch the video below: