Fayose: APC, PDP Exchange Words Over Next Ekiti Governor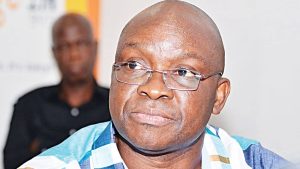 Ahead of the 2022 Ekiti governorship election, the All Progressives Congress (APC) and the Peoples Democratic Party (PDP) have started trading allegations.
This is as the South West Zonal Publicity Secretary of the APC, Karounwi Oladapo has alleged that former Ekiti State Governor, Ayodele Fayose wants to force his preferred candidate on the PDP and the people of Ekiti.
Oladapo in a statement said the emergence of the Ekiti State Chairman of the PDP, Bisi Kolawole, as an aspirant for the 2022 governorship election is a clear sign that Fayose wants to continue ruling by proxy.
The APC in a statement titled, 'Ekiti 2022 from the prism of the opposition party, PDP: Only three aspirants are contenders while others are pretenders', said: "The person (candidate) will become the commander and controller of Ekiti PDP.
"The person will be using the PDP structures to negotiate for survival and relevance within the PDP hierarchy and remain as opposition leader in Ekiti State. This is because PDP and its candidate cannot withstand APC in the 2022 gubernatorial elections for a number of reasons.
"As of today, May 2, 2021, if the PDP primary election is to be conducted, Fayose/Bisi Kolawole will beat Senator Biodun Olujimi to a second position and Segun Oni to a distant third position.
"However, as politics is dynamic and volatile, things keep changing rapidly in politics, the equation may change in the days ahead, provided Fayose sleeps behind the wheel, should that happen, Olujimi, may spring a surprise."
However, the spokesperson for the Bisi Kolawole Campaign Organisation, Lere Olayinka, said the APC shouldn't concern itself about who emerges PDP candidate but should rather focus on fixing its failed government.
He said: "The APC should face their party and their failed government.
"People are being killed, people are being kidnapped everywhere, their concern is who is campaigning by proxy. If contesting by proxy is what will bring peace to Ekiti, what is wrong with that?
Olayinka added that Fayose is not contesting and issues about the governorship election shouldn't be about him but about the aspirants.
"Our aspirants are sure that they would become governor of the state by picking the PDP ticket.
"In APC, are they even settled to contest? "Who is contesting under APC? Nobody, because they know that they cannot win election again," he stated.
Meanwhile, A chieftain of the All Progressives Congress (APC), Osita Okechukwu, has accused Ekiti State Governor and Chairman of Nigerian Governors Forum (NGF), Kayode Fayemi, of inciting Nigerians against the ruling party.
Okechukwu was reacting to comments made by Fayemi on The Platform, a programme organised by the Covenant Christian Centre, aired live on Channels Television on Saturday.
Under
Breaking News
Promote Your Song & Video with Us Now At Affordable price contact us now
08022290573
1805loaded@gmail.com