Ezekwesili Slams DSS Over Comment On Buhari's Critics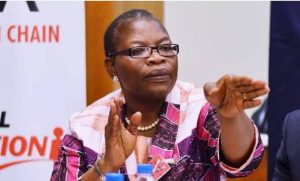 A former Minister of Education, Oby Ezekwesili, has berated the Department of State Services (DSS) for describing critics of President Muhammadu Buhari as misguided and disgruntled elements.
Naija  News had reported that the DSS accused critics of the President of threatening the government, sovereignty, and corporate existence of the country.
In a statement on Sunday, the DSS spokesman, Dr. Peter Afunanya, said the critics are planning to disintegrate the country by calling for Buhari's resignation.
"The Department of State Services hereby condemns the unsavory statements by misguided elements who have continued to threaten the government, sovereignty and corporate existence of this country.
"Notable are the unnecessary vituperations and activities of some religious and past political leaders who have either called for a forceful change of government or mass action against it," the DSS had said.
Reacting to the DSS statement in a tweet on her Twitter handle on Monday, Ezekwesili knocked the secret police for saying that critics of the President of planning to disintegrate Nigeria.
She noted nobody seeks to throw Nigeria into anarchy than Buhari "whose actions and inactions daily dig Nigeria deeper into disintegration".
Ezekwesili wrote, "DSS must direct this to @MBuhari, the @NGRPresident, who is their Direct Supervisor.
"Nobody else in Nigeria today seeks to throw Nigeria into anarchy than a President whose actions and inactions daily dig Nigeria deeper into disintegration. DSS, please send your boss a query."
Under
Breaking News
Promote Your Song & Video with Us Now At Affordable price contact us now
08022290573
1805loaded@gmail.com