Buhari To Meet Doctor In Paris On Saturday As 'Health Deteriorates, Becomes Incoherent'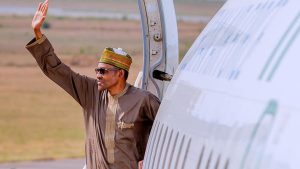 President Muhammadu Buhari will leave Nigeria on Saturday for an official trip to Paris, the France capital, to meet with his personal doctor.
It was gathered that Buhari would be in Paris for at least four days, where he has also been scheduled to meet his doctor.
"Buhari will be heading to Paris for four days. He was planning to go to Kampala (Uganda) and travel to London, the United Kingdom, to see his doctors but they opted to meet him in Paris. He will be travelling on Saturday," a top source disclosed this to SaharaReporters.
Buhari had planned to attend the inauguration of Uganda's tight-fist dictator, Yoweri Museveni, and from there let him visit the UK for treatment.
But the plan was later shelved and the decision to send Vice President Yemi Osinbajo to Uganda to represent Buhari was made at the last minute when it appeared that the UK trip was not feasible.
Top presidency sources revealed that Buhari's health, particularly his dementia, had allegedly deteriorated recently, and he was incoherent at the security chiefs' meetings in the last two weeks.
"Buhari had wanted to travel to go for Museveni's inauguration in Uganda and now use the opportunity to go to London but they changed the plans last minute and sent Osinbajo," a top source had revealed.
Since Buhari assumed office on May 29, 2015, Buhari has embarked on medical trips abroad at least five times, covering a period of no fewer than 170 days of the five years he had been in power.
Osinbajo had represented President Muhammadu Buhari at the swearing-in of Yoweri Kaguta Museveni as Ugandan president for the sixth term.
The 76-year-old politician who has served Uganda since 1986 was on Wednesday, May 12 sworn in for another term in office, making it his sixth term as president of the African country.
Museveni was declared winner of the January election despite controversies and reports of irregularities during the polls.
Museveni on Wednesday took the oath of office at a ceremony in Kampala broadcast on national television. The ceremony was attended by several African heads of state and other foreign dignitaries.
Under
Breaking News
Promote Your Song & Video with Us Now At Affordable price contact us now
08022290573
1805loaded@gmail.com