BUDWEISER SMOOTH KINGS REMIX – SEASON 1 EPISODE 4 (Feat Chike and Niniola)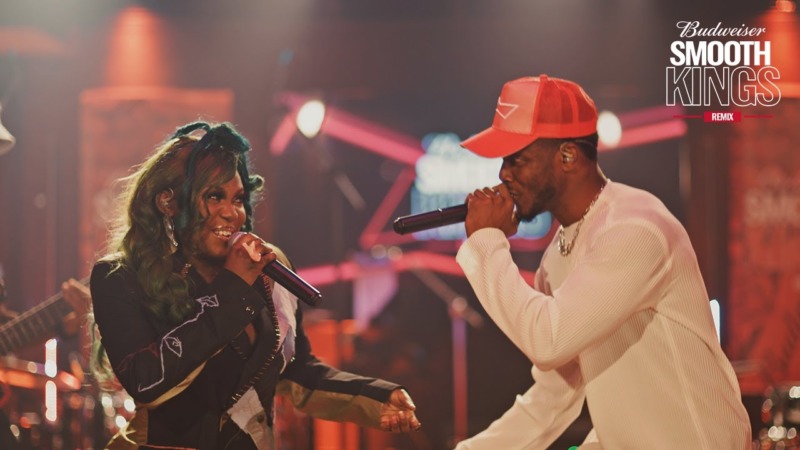 Welcome to yet another episode of the Budweiser Smooth Kings Remix show, sponsored by the King of Beers as you already know, and hosted by the one and only, Mike Edwards.
Episode 4 is fully packed with exciting moments and as usual, 2 artists are going to be doing us the honor of remixing and performing a Nigerian classic.
On the show today, we have the Nigerian singer and songwriter, Niniola Apata, and Chike, who are going to remix "Oruka", the 2007 classic by Sunny Neji.
For those who are unaware, Niniola participated in the 6th season of Project Fame West Africa in 2013, and now, she has evolved to become one of Nigeria's best female Afro-house artists.
Niniola walks us through her journey to stardom with her debut single, Ibadi, produced in the year, 2015, which earned her a nomination for Most Promising Act to Watch at the 2015 Nigeria Entertainment Award.
Chike, on the other hand, revealed that it was his album "The Boo Of The Booless", which was released in May 2020 that did it for him. He says that the reception was nothing short of amazing, adding that he is super excited to finally be doing a song with Niniola.
You would agree that Chike and Niniola are two different artists, from two different times, as far as the music industry is concerned, but do not hold your breath, as you're about to be blown away.
Back at the studio, Gospel On The Beatz was already waiting to receive the amazing entertainers, who in turn could not wait to work with him.
On hearing the beat already prepared by Gospel, Chike says he loved the energy already and cannot wait to hear it all. Nini confesses her love for the song from the outset, and although he has a tradition of not listening to the beat of a song prior to her performance because she needs it to be as fresh and original as can be, she already loves it, especially the infusion of talking drum.
Moving on to the next stage, as you already know the drill, the performing artists are given the opportunity to style themselves, while Mike engages them in a chit-chat. Chike seems to be in the mood to flex some muscles so he goes with white cotton, long-sleeve body shirt, while Niniola selects an oversized double-breasted jacket with colorful knitting and Aso-oke detailing.
Now is the time we all have been waiting for, as the artists take the stage to render a live performance of the 2007 classic by Sunny Neji, "Oruka".
In between, we have the original crooner of the song, Sunny watching and smiling as the entertainers do justice to his hit single.
His words were, "Really awesome performance. I liked the fact that Niniola was hot, while Chike was cool. Like fire and water, they complement each other so beautifully. They did a fantastic job, and I am very impressed"
That will be all for the show today, do join us next week.
The post BUDWEISER SMOOTH KINGS REMIX – SEASON 1 EPISODE 4 (Feat Chike and Niniola) appeared first on tooXclusive.
Under
Music
Promote Your Song & Video with Us Now At Affordable price contact us now
08022290573
1805loaded@gmail.com