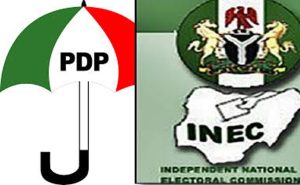 The Peoples Democratic Party (PDP) has asked the Independent National Electoral Commission (INEC) to conduct the electronic transmission of election results from polling units to a central server during the 2023 general elections in Nigeria.
The call was made in a statement on Tuesday by the PDP National Publicity Secretary, Kola Ologbondiyan who noted that since INEC plans to conduct electronic registration of voters, it should be able to transmit election results electronically as well.
It will be recalled that the alleged presence and use of a central server for the transmission and collation of results was one of the major points held on to by the PDP to challenge the outcome of the 2019 presidential election results.
The use of the server for the 2019 polls was however denied by INEC.
On Tuesday, the PDP argued that INEC no longer has any excuse not to conduct the 2023 election using electronic transmission and a server.
The party also called on the All Progressives Congress (APC) led federal government and the National Assembly to pass the electoral act which will give legal backing to the use of electronic transmission of results.
"Our party calls the attention of the commission to the fact that it no longer has any excuse not to employ the direct transmission of results from polling units, which will ensure credible elections by eliminating manipulations, alterations, switching and disappearance of election results during manual collation processes.
"The PDP insists that if INEC can use the electronic platform for registration of voters, it could as well deploy the same technology for electronic transmission of results in future elections including the 2023 general elections.
"Our party, however, urges INEC to ensure that the online registration of voters is credible, transparent and not open to the manipulations of desperate politicians.
"The PDP also calls on the APC leadership in the National Assembly to know that it has no further pretext to continue to sit on the Electoral Act
Amendment bill and frustrate genuine efforts to ensure credible, free and fair elections in our country," the PDP said.
Meanwhile, former Governor of Anambra State, Peter Obi has alleged that a sitting Governor from the southeast in conjunction with some other prominent Nigerians are planning to blackmail him.
Obi, the 2019 vice presidential candidate of the Peoples Democratic Party (PDP) alleged that those attempting to blackmail him are accusing him of sponsoring Biafra agitation against the Nigerian state.
He raised the alarm in a statement by his media aide, Mr. Valentine Obienyem in which he noted that those planning to blackmail him are five in number.
According to him, they are jealous of his rising profile and looking for a way to bring him down at all cost.